Is Glossier Clean & Sustainable? We Found Out
Glossier was launched in 2010 by Into the Gloss founder Emily Weiss and quickly grew into a massive and popular brand. The brand sells direct-to-consumer exclusively, with physical locations in Seattle, Los Angeles, Miami, and London.
Glossier is a millennial-focused beauty and skincare brand that has taken the world by storm. With its focus on "essential" and "easy-to-use beauty and skincare products," the company has built a large and loyal following.
But is the brand as clean and sustainable as many of its raving fans believe? We took a deep dive into the brand to find out.
Our Methodology
At Better Goods, we rank brands on our three pillars: ingredients, sustainability, and animal welfare.
Brands are rated on the three pillars as follows.

Best – This ranking is for the best of the best. Only exemplary brands will receive a ranking of best for any category.
Good – This ranking is for brands that are typically quite good, but don't go above and beyond like our best choices.
Iffy – This ranking is for when we find something we find iffy. Not a good sign.
Bad – This ranking is reserved for the worst of the worst.
Ingredients (Rating: Iffy)
Many people assume that because of Glossier's minimalistic branding, they must be a clean brand.
In a 2018 interview with The Cut, Glossier founder Emily Weiss was paraphrased, saying, "She just doesn't think her customers care about ingredients if they're happy with the results."
This doesn't bode well in terms of the ingredients being safe, natural, or clean. Let's take a look at their ingredients to see if this is the case.
Transparency and Chemical Fragrance
The Glossier website lists the full ingredient makeup of most of their lineup of products. However, there is one notable exclusion to this rule: their fragrances.
Their iconic You fragrance, which comes in both solid and Eau de parfum forms, doesn't list the chemical makeup of the formulation. While this is perfectly legal, it almost certainly means that they're using any number of potentially-harmful chemical ingredients. For this reason, we recommend avoiding Glossier fragrances.
For a cleaner dupe of the Glossier You fragrance, try WEST by Ellis Brooklyn.
Other Ingredients of Concern We Found in Glossier Products
We analyzed the ingredients in more than 20 Glossier products, and we found some ingredients we recommend avoiding.
This is not an exhaustive list, but you should be aware of the following:
Chemical Sunscreens – Glossier's Invisible Shield Daily Sunscreen is formulated with chemical UV absorbers Avobenzone, Homosalate, and Octisalate, which we strongly recommend avoiding. Chemical sunscreens are not only damaging to our coral reefs but they've also been found to absorb and accumulate in the bloodstream, where they can have unknown health impacts.
Cyclopentasiloxane – Cyclopentasiloxane is a volatile silicone that's often used as a skin-conditioning agent and emollient. It's been linked to organ system toxicity and environmental toxicity.
PEG-10 Dimethicone – Dimethicone is silicone, added to products to make them apply smoothly to the skin and make them feel nice. While we prefer no silicones in products, it's not inherently an unsafe ingredient. PEG ingredients are, however, as they can be contaminated with ethylene oxide and 1,4-dioxane, both of which are linked to cancer.
BHT – Found in their Balm Dotcom line of products, BHT is a preservative that's been linked to organ system toxicity and environmental toxicity.
While not all of the products in Glossier's lineup are bad, there are enough questionable ones to call the brand a distinctively non-clean beauty brand.
For this reason, we give Glossier a rating of Iffy for their ingredients.
Sustainability (Rating: Iffy)
Glossier isn't a particularly sustainable brand. In terms of packaging, Glossier uses a lot of plastic which is not environmentally friendly. Their products are also not refillable or recyclable, and many of the materials used are not biodegradable.
Discontinuation of Glitter Gelée
In March of 2019, Glossier launched their sparkly eye product Glitter Gelée. While it proved to be a popular item, many customers took issue with the fact that it used non-biodegradable plastic glitter.
In 2020, the brand discontinued the product and admitted that it was a misstep. They state that if they relaunch this—or similar—products in the future, they will use biodegradable and eco-friendly glitters.
Recycled Boxes
Glossier's shipping boxes are made from 100% recycled materials. While this is not exactly something to celebrate, it's still a positive.
Less Packaging
Since the brand's launch in 2014, Glossier shipped all produced direct-to-consumer in a pink pouch. Due to consumer feedback, Glossier made a change. Since the summer of 2019, Glossier has given customers the option to purchase their products without the pink pouch and any extras like sticker sheets.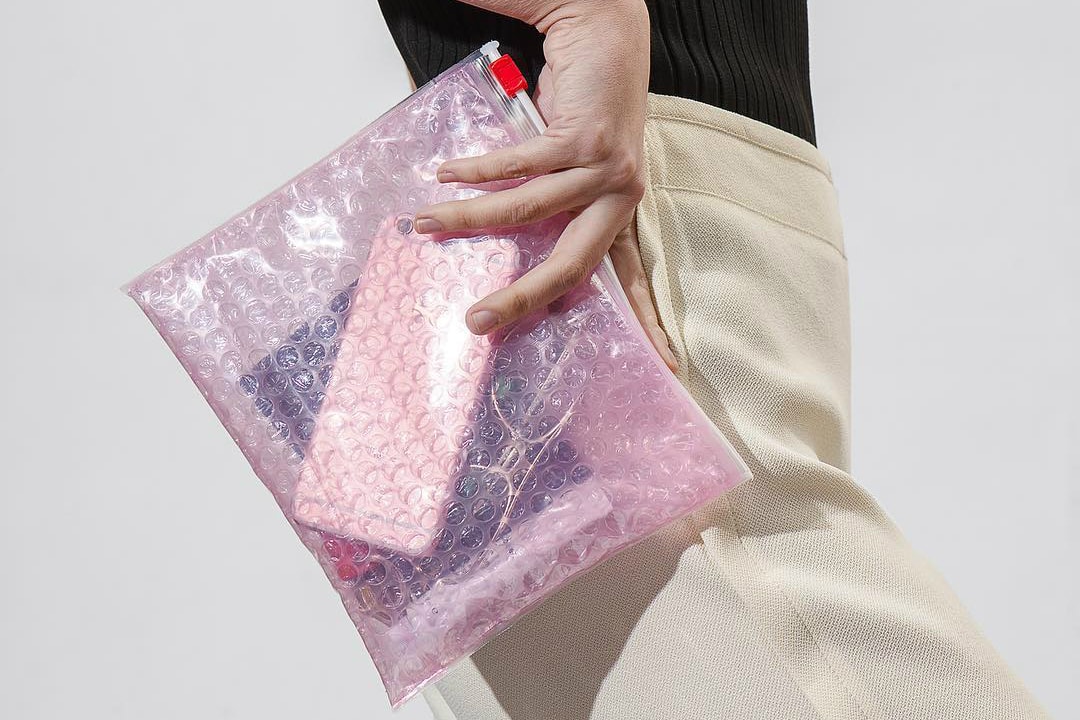 The most up-to-date figures we can get on this program come from Glossier, where they state that in August 2020, one year since the program's launch, nearly half a million users opted out of the pink plastic pouch. In addition, pink pouches can be returned to any Glossier store and will be recycled. However, at the time of writing, stores only exist in Seattle, Los Angeles, Miami, and London.
Glossier still offers these pink pouches, so they could do a lot better in this regard. Still, it's incredibly encouraging to see such a massive amount of people opt out of extra packaging. It speaks volumes about our demand for more eco-friendly and sustainable brands.
While they have made strides to improve their sustainability practices in recent years, they still have a long way to go.
For these reasons, we give Glossier a rating of Iffy for their sustainability.
Animal Welfare (Rating: Good)
Cruelty-Free
Glossier is a verified cruelty-free brand, meaning their products and ingredients are not tested on animals at any point, and their products are not available in any jurisdictions with compulsory animal testing laws.
Not Vegan
Glossier has several vegan products in their lineup which are clearly indicated on their website, but the majority of their products contain animal-derived ingredients like beeswax, carmine, honey, and lanolin.
For this reason, we give Glossier a rating of Good for their animal welfare.
Brand Ratings
Our rating scale ranges from "Best" (for having the best practices) to "Bad" (for having unacceptable practices). We rated as follows.
| | |
| --- | --- |
| INGREDIENTS | Iffy – Glossier's lineup of products uses several ingredients we recommend avoiding. In particular, their sunscreen uses chemical UV absorbers and their fragrance uses an undisclosed list of ingredients. |
| SUSTAINABILITY | Iffy – There's nothing particularly sustainable about Glossier. Most products are packaged in plastic and there's no indication that this will change. |
| ANIMAL WELFARE | Good – The brand is cruelty-free, but not vegan. |
Overall Rating: Iffy
Overall, Glossier is a non-clean, non-sustainable beauty brand with some good practices. While they have made strides in terms of sustainability, there is still a lot of work to be done. And while they are a cruelty-free brand, they are not vegan. If you're looking for a clean, sustainable, and vegan beauty brand, Glossier is not the right choice for you.
For these reasons, Glossier only receives a rating of Iffy.